In musical theatre, there are very long tech days called 10 out of 12s. That means we're called at 12pm and go until 12am, but have a 2 hour dinner break from 5-7. Usually, these days are long and seem to last forever. But especially so on this show. This show is all about the dancing, and the lights. The set is static, there are just a smattering of props... and we don't have costumes yet, except for dance shoes.
Which mean that there were three very bored assistant stage managers backstage last night. Not to mention a restless, and later, slap happy, cast. The other two ASMs read... a lot. And I of course, broke out the camera, and experimented with low light photography. Not taking pictures of the people, but of the set and lights. Those pictures I still have to filter through. You most likely won't be seeing those for awhile.
Highlights of the very long never ending day included CM and EG randomly rocking it out (and by rocking it out, I mean hotel piano bar style, not rock concert). CM would start singing some piece (Straighten Up and Fly Right, Night and Day, etc), and EG would just accompany along. The amount of music in that brain and hands is just incredible. Other highlights included our sound engineer getting punchy in the later hours and randomly playing the nun's pre-recorded opening to the Act II finale "Climb Every Mountain" from "Sound of Music" which caused shouts of laughter from a majority of the theatre. Another highlight included the director asking a singer to dance off the stage with some "twirly shit". Twirly shit she got, as BS took her at her words. Definitely worth it as the ensemble and tech table alike howled in hysteria.
Those moments were few and far between, but all in all, made it a bit worth it. Today's rehearsal is a little shorter and includes some orchestra members. Tomorrow they'll dance with the orchestra and then add costumes in the vening. Such is the life of summer stock theatre. Did I mention we'll start rehearsals for Show #3 on this upcoming Wednesday?!
I filtered through the fireworks pictures this morning and reduced them from 400-odd to about 150-odd. I'm really pleased with how many turned out so well... I just have to decide how many I'll posting and upload them at work (faster connection).
Stay tuned.
And here it is: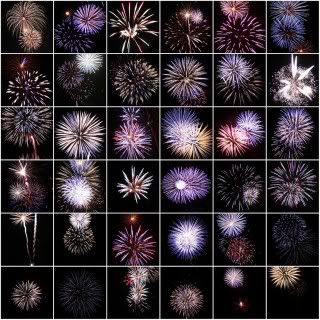 Click the Flickr link to see them all individually.