I had planned a post with photos from the last few days, but tonight, something happened that I just
had
to blog about. Nothing super exciting, but sometimes something new is way too fun. Especially when one has been in a traffic-induced funk.
A few coworkers and I had talked about playing bingo sometime, but hadn't gotten around to it quite yet. So tonight, I texted them and suggested bingo. One took me up on it, and away we went. While there, we ran into one of our IA crewmen who had told us about the place. He sat with us and we had a grand old time. I learned a lot tonight - the tricks of the trade. How to make it through multiple game pieces before the next number is called, what each of the board designs are, and how to get ahead of the game. And the lingo of the game. (There's more than just the word "Bingo").
And at $1 a game today (and every Monday and Friday), it'll be a good fun thing to do every once in awhile. The game pots are $500 and 750 on dollar nights, so that's not too shabby if you're a winner. I came close on a few boards... but close isn't winning.
Tomorrow, I'll post pictures from my adventures in evening photography.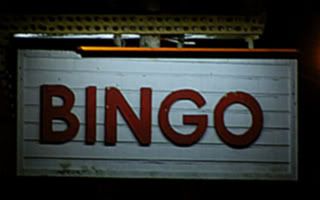 And just so you know... the crowd is more than just older people. There's people of all ages, races and backgrounds.