You know I'm hard up for interesting blog entries when I am photographing my snack food.
In the interest of eating healthier... I'm trying to find food that I like that is also healthy. I like crunchy, and I like bell peppers, so I'm hoping to solve the craving for crunchy with sliced and diced bell peppers. And hey, it's one of the five-a-day fruit or vegetable items I'm supposed to have daily... right?
I was coring and prepping them for tupperware when I happened to look at my cutting board: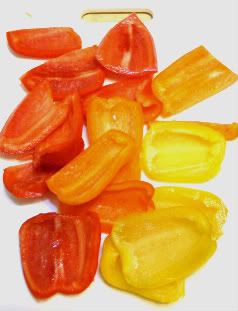 Accidentally pretty, I think. And I did no arranging of colors, they naturally fell like that. I just reached in the bag, washed and put them in line to be chopped.
And yes, I'm pretty boring right now. Our in-room run with all cast and most crew (a luxury on this show) happened on Sunday and it went well... surprisingly well considering it was the first time that all elements had been added together (artistic with tech).
Now we're figuring out how to as effectively rehearse the show without the benefit of the actual set (almost a character itself in this show). We taped out somethin' pretty today, but I didn't get a chance to snap a shot... perhaps later in the week...