Day 6 dawned cloudy but we held out hope for an afternoon on the beach. But before we could be lazy, we had to get our workout. Diamond Head is a nearby State Monument which was also part o the Coastal Artillery defense system. It's a short (0.8 mile) but arduous (560 ft elev) hike. There are two very steep stairwells, of 74 and 99 stairs respectively. K, my companion, is in much better shape than I am, if anything by virtue of where she lives. Houston is not very hilly and my parking lot is flatter than flat. NYC gifted her with a steep hill near her apartment and steep stairways to and from the subway. Therefore, I was not surprised to find myself lagging behind. What I was surprised about was my great inability to get a lungful of air, (what I'd later learn was the very early signs of the bronchitis).
As much as it was a harder-than-necessary hike, the views were well-worth it. I could have done without the crowds and the gnats that awaited us. And as a popular visitor's destination, they could maintain their trails a bit better considering the foot traffic it recieves.
Both of us, in shape and not, were looking forward to our lazy afternoon on the beach. We started out in our original spot, but it was windier that day and we decided to move further down the beach behind the seawall. We played frisbee in the water for ages and later, I used to frisbee to look for shells. The shells I found were miniscule but gorgeous. It was all fun and games until I found a larger shell, complete with current resident. Needless to say, there was a startled squeal and dropping of frisbee. I retrieved it moments later, critter-free and was very much done with shell-hunting.
Unfortunately, that was pretty much the end of our island adventures as my traveling companion became ill that night, and we stayed in the next day, sleeping and storing energy for our long trip to the airport that evening, via bus.
Despite the very last part of our trip, it really was a blast. Would we have wanted more sunshine and more beach time? Sure. Would we have wanted to see more of Hawaii, like other islands? Sure. Did we have fun? Absolutely.
In an effort to save funds, we created our own cocktail in our room, supplied by the ABC stores. Equal parts rum (bacardi gold), pineapple juice, orange juice and grapefruit juice. The grapefruit juice's tartness helped balance out the super-sweetness of the pineapple juice. As far as we can tell, no one else has combined these particular ingredients and named it - so we named it after our lodging: the Royal Grove Cocktail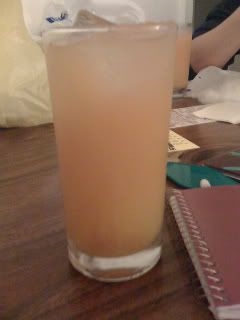 All in all, visiting the Land of Blue Stop Signs was fun and I look forward to my next trip.