After a quiet day in, I went out to dinner with a friend of mine. She and I have talked about hanging out together but our schedules have been so opposite. After running into each other at the grocery store at midnight, we resolved to get together.
Today, she and I, and a few colleagues hit up this place for beer and hot wings: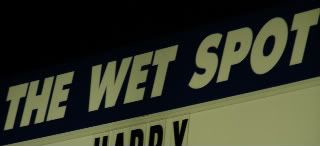 Yes, I know it has an unfortunate name, but 35 cent wings are nothing to turn down. And for being a sports bar, it wasn't overwhelmingly so. Good wings, decent beer and awesome stories.
But we weren't done yet - we changed locales, to a good ol' favorite: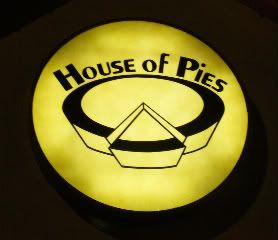 And guess what I had there? Not breakfast! No
biscuits with honey
but old-fashioned blueberry pie. When W and I went the other night to celebrate her new car, I had a brownie sundae but was lusting after everyone else's pies because they looked good. Tonight, I was lusting after T's strawberry rhubarb pie. That's what I'm getting next time - as long as I'm not in the mood for breakfast!
Tonight was not my normal group of people to hang out with and it was definitely a blast! We've got to do this more often - and I have to acquire a better taste for beer. No hard cider cop-outs for me at the Wet Spot!