No terribly scintillating post today, for today was a rather uneventful day.
Did laundry. Emptied the dishwasher. Took an unplanned 3 hour nap - whoops. 
4 days until I can walk like a normal person. 
Today's image actually comes from a purchase made two days ago.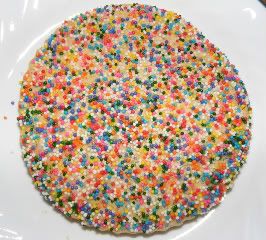 This cookie is my dream cookie, almost. Coated in my favorite sprinkles, it's not your run-of-the-mill sugar cookie, but it was pretty good. The (minorly) interesting part of the story comes from its purchase point.
My mom and dad *love* to cook. *LOVE*. I haven't quite inherited their passion, but it's certainly rubbing off on me. When they were here in the fall, they *adored* Central Market. I don't blame them - they have some great stuff there, though a bit pricey for everyday shopping for my tastes. When Mom and I did our random drive of Houston, we ended up in the unofficial Koreatown. Which also happens to be quite immeshed with a Hispanic population. We stopped and looked around in a Mexican grocery store. We found the above cookies as well as some delicious looking pastries. 
I just might have to go back - and if I want to cook Mexican food, I now know a good source!