Because of yesterday's timeline, I missed posting and was too tired to post when I got home.
Yesterday's highlights included a random lunch! Mom and I decided to drive around town and see what there was to explore. "Blind" exploration, if you will. See a street and just take it. I ended up in the 'unofficial' Koreatown. We decided to lunch at a random restaurant (there are far too many in close proximity), and lucked out with a delicious meal for a deal!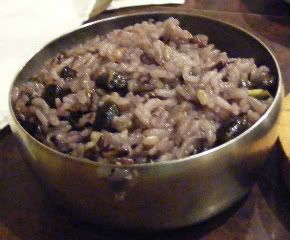 That's bulgogi (Korean BBQ beef) on the left and rice on the right. And yes, it's purple. We think it's from the black beans mixed in. Damn tasty, I'm telling you!
The day was topped off by attending a world premiere opera, Last Acts, based on a play by Terrance McNally and composed by Jake Heggie. A 3-person emotional heavy-hitter, it was stunning to watch these three singers explore the emotions of the piece. Contemporary opera is unfortunately unpopular with the 'old' opera crowd it seems - but they should put their doubts aside. He has this way of writing music so it supports the emotions onstage instead of distracting or detracting. 
Sometimes it's fun being on the other side of the curtain!
Today's adventures included navigating rush hour traffic plus a big thunderstorm. Makes me flashback to driving around in L.A. I don't miss stop-and-go traffic. I must find a good non-highway route to Hobby.
But before those water-logged adventures, we traveled back in time. At the Museum of Fine Arts, Houston (MFAH), a new exhibit opened about Pompeii. Having actually been at the site this past summer, I wanted to see what they chose to send along for the exhibition. It was interesting to see all the jewelry and other items that they found and the conclusions that they had drawn. Most of the items were not 'on display' at the ruins, so I definitely did get to see things I hadn't before. After finishing there, we explored a few of the other exhibitions that I deemed "can't miss" when I explored last week.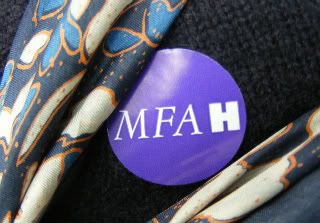 Unfortunately Mom had to go back to the land of winter today, but I think we had a fun week. Not too long now before I start another show...