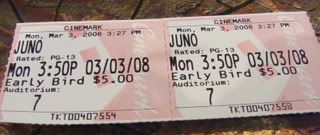 Today, I saw Juno. Seeing this movie makes me so happy. Why? Because it reassures me that there is still good writing out there and there is still brilliant directing and great acting out there. And good, quality movies are still being made. I've been doing a lot of TV catch-up lately, and I keep seeing ads for terrible-looking movies. Ones that are obviously made to make a lot of money (and often don't). Those movies make me sad.
If you haven't seen Juno (and most likely you have since I've come so late to the movie game), then go see it. Ellen Page is brilliant in it; and I really enjoyed seeing Allison Janney, not to mention J.K. Simmons who was great as Juno's father.
~~~~~~~~~~~~~~~~~~~~~~~
My mom escaped from Missouri winter only to be chilled by the front that has come through. We're hoping for a lovely day tomorrow to go exploring outdoors!